Sessions
The Session Bar runs along the top of the app and is visible all of the time.  The Session Bar is green and that means your QOCCA Session is online.

If your network goes down this bar will turn red:

When your network comes back up the Session Bar will once again turn green.
Profiles
On the right  of the Session Bar is the Active Profile you're logged on with: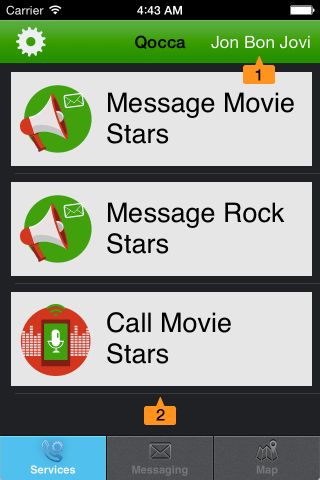 Active Profile: is Jon Bon Jovi.
Services List:  shows Jon Bon Jovi's team services.
You can think of a profile as a team member mapped to a device, in this case your mobile phone or tablet.
Because your profile is a team member the actions available to your profile depend on the teams it's a member of.  Jon Bon Jovi is a member of two teams, the Movie Stars and the Rock Stars, so he has access to the services of both those teams.
Change Your Active Profile
It's possible to have multiple profiles on QOCCA.  To change your active profile select the Active Profile or swipe left on it to reveal the Profile Selector:

Active Profile: press to open the Profile Selector or
Swipe Left: to open the Profile Selector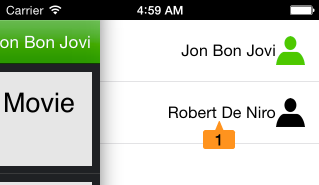 Profile Selector: press Robert De Niro to change to a new Active Profile.
When you select Robert De Niro as your new active profile the session of your old active profile Jon Bon Jovi is logged off and a new session is created for Robert De Niro.   Because Robert De Niro is a member of just one team, the Movie Stars, only Movie Stars services are available to him via the Services Tab: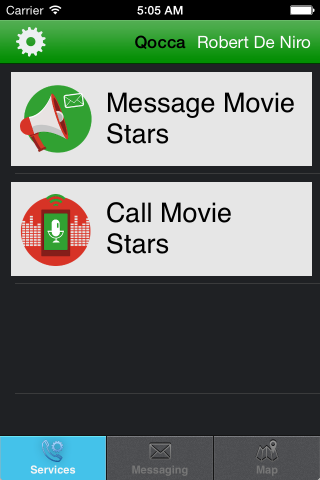 Next: learn how to Refresh QOCCA